Welcome to KathleenBarry.net
The Prostitution Of Sexuality - eBook Available
The Prostitution Of Sexuality now available in eBook in the U.S., U.K., and Australia. Recent laws to abolish prostitution by criminalizing those who buy it not those who sell it started here with this book. Booklist found Kathleen Barry's work "Frightening, provocative, controversial, and much needed are a few words to describe this work of feminist scholarship that's a follow-up to Barry's groundbreaking Female Sexual Slavery." Kindle | Google | Sony | Kobo
Welcome –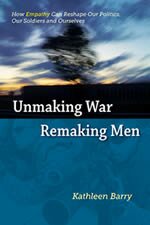 From the U.S. civil rights movement to global liberation of women, my activism is focused on liberation and self-determination which has brought me to my latest book, Unmaking War, Remaking Men.  I begin by trying to envision a future of peace and equality as well as freedom from violence and exploitation.  I get there by listening carefully and with empathy to women's stories, soldiers' testimonies and victims experiences.  Grounding in real life stories with their yearning for freedom and liberation begins the quest for a new kind of future.
The politics of empathy that emerges from Unmaking War, Remaking Men takes us from stories to social structures, from masculinity to the military, from state leadership to governments that violate human rights. In exposing women's inequality and human rights violations of women, as I did in Female Sexual Slavery and Prostitution of Sexuality, we discover new paths to human rights and equality. This is what led me to develop the Convention Against Sexual Exploitation which now serves as a model for state laws which have curtailed prostitution and trafficking in several countries. 
Whether it is the network of programs around the world for women and children escaping prostitution or the half-century of campaigns by Susan B. Anthony for women's rights and equality, I am privileged to be part of the global feminist activism that is changing the world.  I invite you, if you have not done so already, to be part of the solution by finding the activism that best suits you for unmaking war, remaking men.
NEW SECTION: Check out the NEW PROGRAMS section of my website!